As you glance thru Pinterest, Facebook or any other media, you will see a growing theme when it comes to kitchen sinks, The Farmhouse or Apron sink. Although you will find the terms used interchangeably, with certain manufacturers there may be a distinction. An Apron front sink can refer to sinks that call for a slide-in installation. The sink has a finished apron on the front, but the other 3 sides of the sink remain unfinished. Whereas a Farmhouse sink is finished on all four sides of the sink. Thus facilitating an installation either above or below the countertop.
When considering whether or not this style of sink is right for your kitchen, here are a few factors to consider. Cost, sink construction, possible installation issues, maintenance and last but not least does it complement your lifestyle.
In this blog, I will briefly cover the various kinds of apron/farmhouse sinks available today.
Which kind of farmhouse sink should I choose?
Farmhouse sinks can be made from a variety of materials. Each of which present their own pros and cons to consider.
Granite Composite
What is it?
Granite Composite /Stone Composite is a engineered material comprised of granite/stone dust and acrylic. The mixture is then molded to form the sink. The resulting product is strong and impact and heat resistant.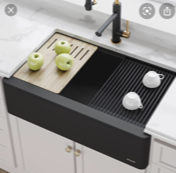 Style
Due to options of granite and stone available today, the composite sink can offer customers a wide range of colors, finishes and size. Lending to a modern clean look.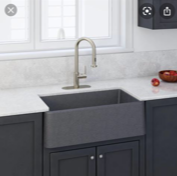 Cost
A granite/stone composite sink is cheaper than a natural stone (marble,granite,lava stone…) sink, but more costly than other options. The average cost is $300-$600
Cons
Because it is a manufactured product, the grains and colors of the sink will be more uniform. Although, there have been some advancement is the process of creating a more textured grain look, it may not have the natural appearance you are imagining.
Another thing to consider is the weight. Because it is a stone product, it will require additional structural support.
Fireclay
What is it?
Fireclay sinks are made from ceramic clay that has been dried at a high temperature. The clay is then heated in a kiln to fuse an porcelain enamel. The resulting product is a glossy shine that is resistant to fading and discoloration and stains. It is also impact resistant.
Style
A fireclay sink is timeless in its appeal. Its glossy finish complements traditional kitchen designs. You can find the sinks in a variety of colors. This sink is easy to clean and maintain.
Cost
An affordable option for sinks, but it is at a higher price point than other materials. (Such as stainless steel, ceramic, cast iron) Average cost is $650-$1300. Although we have found some for as low as $350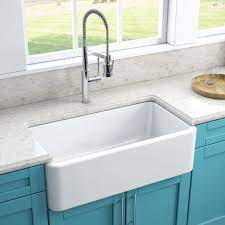 Cons
Due to its weight, a fireclay sink will require additional support at installation. Due to the smooth rounded edges of the sink, special consideration should be given as to how the sink will be finished up to the cabinetry.
Cast Iron
What is it
An cast iron sink is just as it sounds. Iron is casted or molded into the desired form. The glossy enamel coating can vary from being porcelain/ceramic or enamel. (The enamel coating is made of melted glass that is fused onto the iron.) The resulting product has withstood the test of time as it has been the material of choice for sinks, tubs for decades. Unlike a fireclay sink, the dimensions of a cast iron sink will be more exact.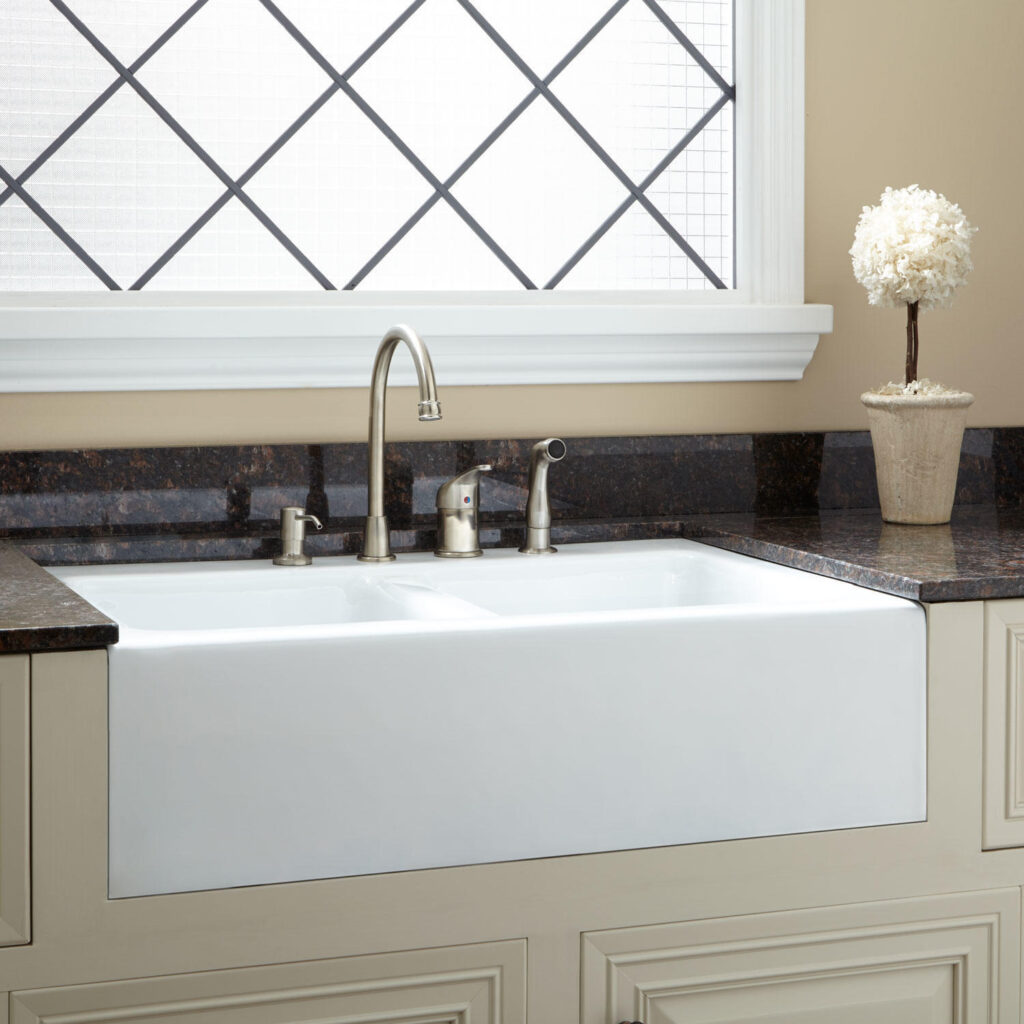 Style
A cast iron sink complements traditional and rustic kitchen designs. Depending on the coating chosen, either porcelain or enamel, there can be design options to consider. Both products are easy to clean and maintain.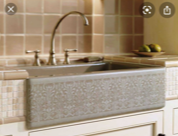 Cost
A cast iron sink ranges in cost from $500-$850. A few manufacturers will sell for about $250. Of course if you wish to have a custom color other than white, the cost will increase.
Cons
The enamel coating of the cast iron sink is very durable. However if the enamel is chipped the iron will be exposed., making this sink vulnerable to rust. Another thing to consider is weight. Depending on the size of your sink, the weight can become difficult to manage without professional assistance in installation.
Stainless Steel
What is it?
Stainless steel has become a very popular in kitchen redesigns. You can see it used from appliances ,open shelves, pot racks to sinks, It is very versatile.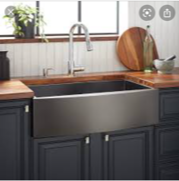 Style
A stainless steel apron sink complements modern kitchen designs. It offers clean minimalist lines to work with.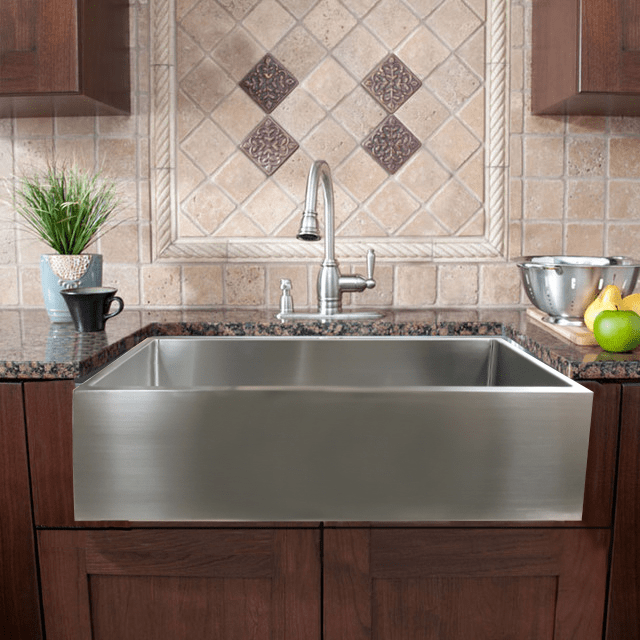 Cost
A stainless steel apron sink can range from $220-$800. Because the material is so widely available and easy to maintain, a stainless steel sink will generally be the most affordable
Cons
Since it is so widely available attention should be given to the gauge of the stainless. The higher the gauge the thinner the steel. Although thinner steel less expensive it tends to scratch and dent easier and will not absorb sound as well as a thicker steel. Average gauge for sinks are 18-22 inches.
Copper
What is it?
Copper apron sink are just as they sound. An apron sink made from copper. Copper has been praised as a sink material for many decades. And there is a reason, it has a beautiful warm appeal and it is synonymous with luxury. Due to this, you can actually find vintage functioning copper sinks from mansions that are 50-100 years old.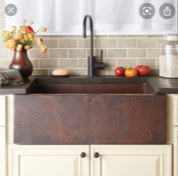 Style
A copper sink will add warmth, style and elegance to your kitchen design. It can complement traditional and modern kitchen designs. Copper sink are mostly hand made adding to the craftsmanship of the sink. The apron of the copper sink can be molded to contain many designs, making it the focal point of your kitchen.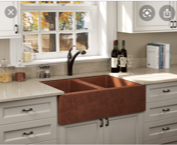 Cost
A copper sink either if it is vintage or brand new can be more expensive than other materials. New copper sinks can range from $700-$1500. Vintage copper sinks or special order sinks can range from $2,800-$3500 or more. Copper is naturally antimicrobial, and it durable and long lasting.
Cons
Besides the cost, there are a few things to consider with a copper sink. Because it has been described as a living metal it requires care. It is in the sinks best interest to avoid leaving acidic foods and cleaning products in the sink. It is best to clean it with just soap and water. It is also important to remember that copper will patina. You can slow down the patina process by applying bees wax. It is recommended that you do not leave dishes soaking overnight.
Solid Granite/Stone
What is it?
These are sinks that are made out of solid block of stone. There are many stones to choose from granite, marble, soapstone to lava stone to name a few.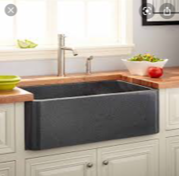 Style
These sinks are usually custom made to your dimensions and personal preference. Oftentimes, scroll work or patterns can be incorporated into the apron. As such, these style sink can complement any kitchen design.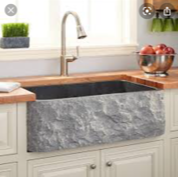 Cost
Due to the material and custom options available, these sinks will generally be the most expensive. The average cost of a solid stone sink is $500-$5000, depending on your stone choice
Cons
Besides the cost, weight of the sink must be considered when designing your kitchen.
See how IKEA's farmhouse sink compares
www.patinstall.com – Certified IKEA Kitchen Installers