IKEA Kitchen Installations
P.A.T. Installations has had the privilege of servicing IKEA New Haven since it opened it's doors in New Haven, CT.
IKEA New Haven Kitchen Installations
P.A.T. Installations proudly offers Ikea kitchen installations to the entire state of Connecticut and beyond. P.A.T. Installations has served IKEA New Haven as a Certified IKEA Kitchen installer for over 10 years. But sadly as of late, IKEA has made a corporate change to no longer support smaller local installations companies in favor of a larger corporation. Despite these changes, we continue to offer our professional Ikea Kitchen Installations to IKEA's customers
We have established and maintained a sterling reputation among the IKEA staff.
And we are proud of our decision to remain a small business. It allows us to focus on quality and customer satisfaction versus volume.
Check out some of our IKEA New Haven Kitchen Dispalyed that we installed.
"In the 15 plus years of our installing IKEA kitchen cabinets, we have enjoyed being a part of the kitchen makeover experience with our customers."

Patrick & Shelly Solomine, P.A.T. Installations LLC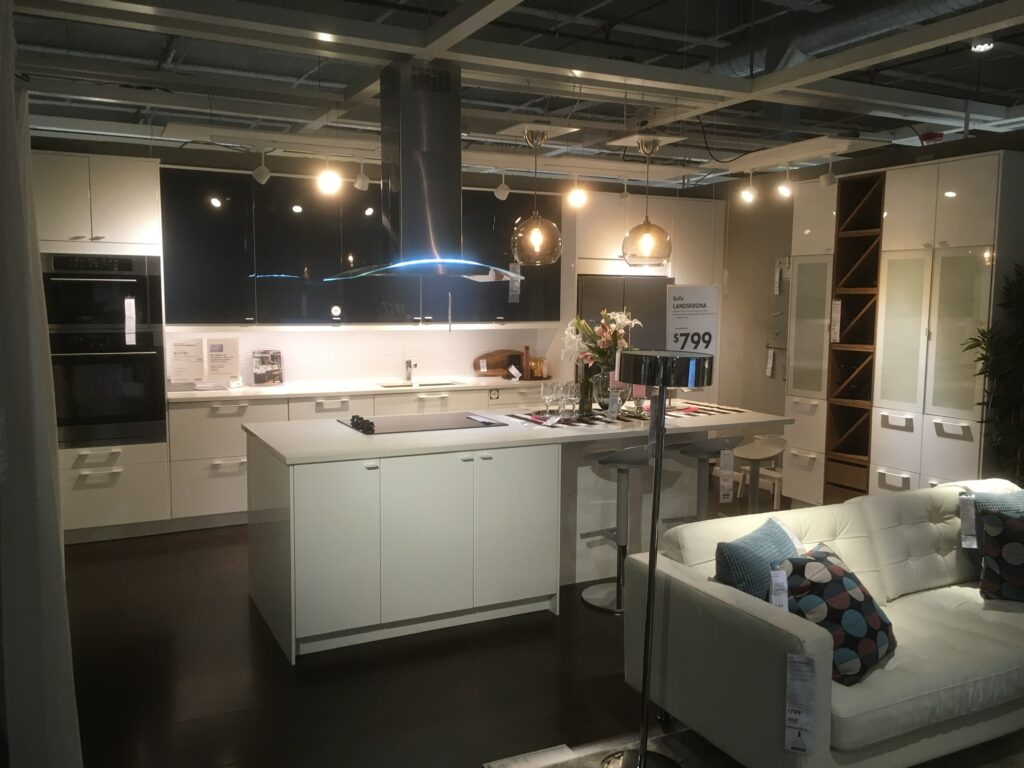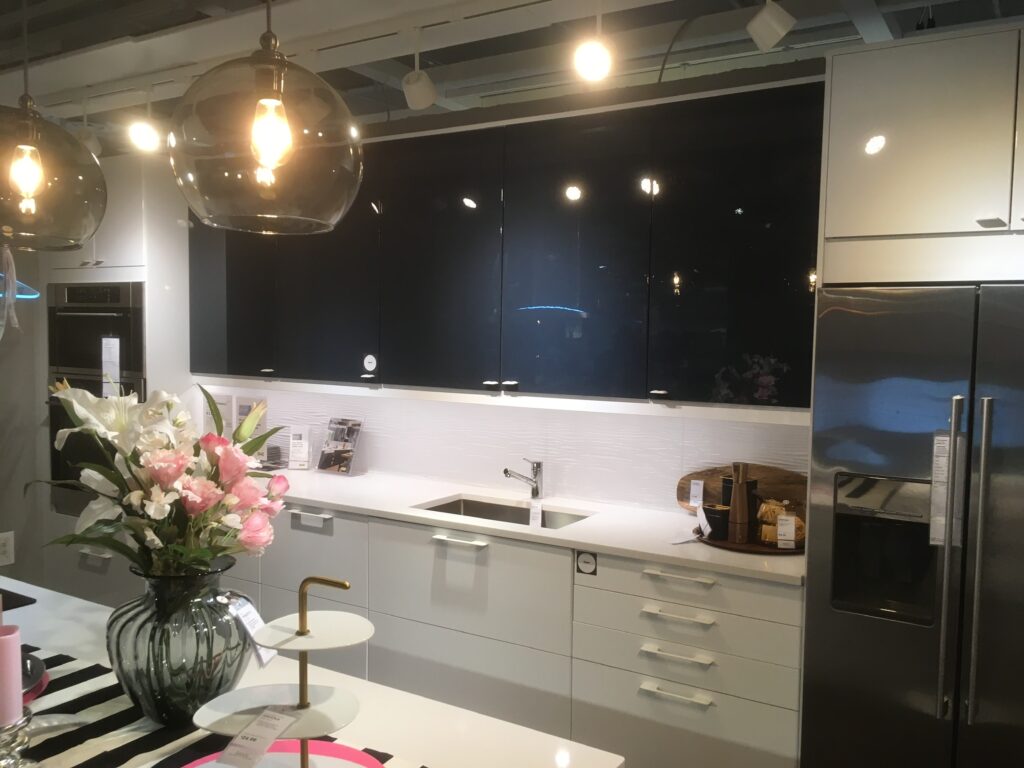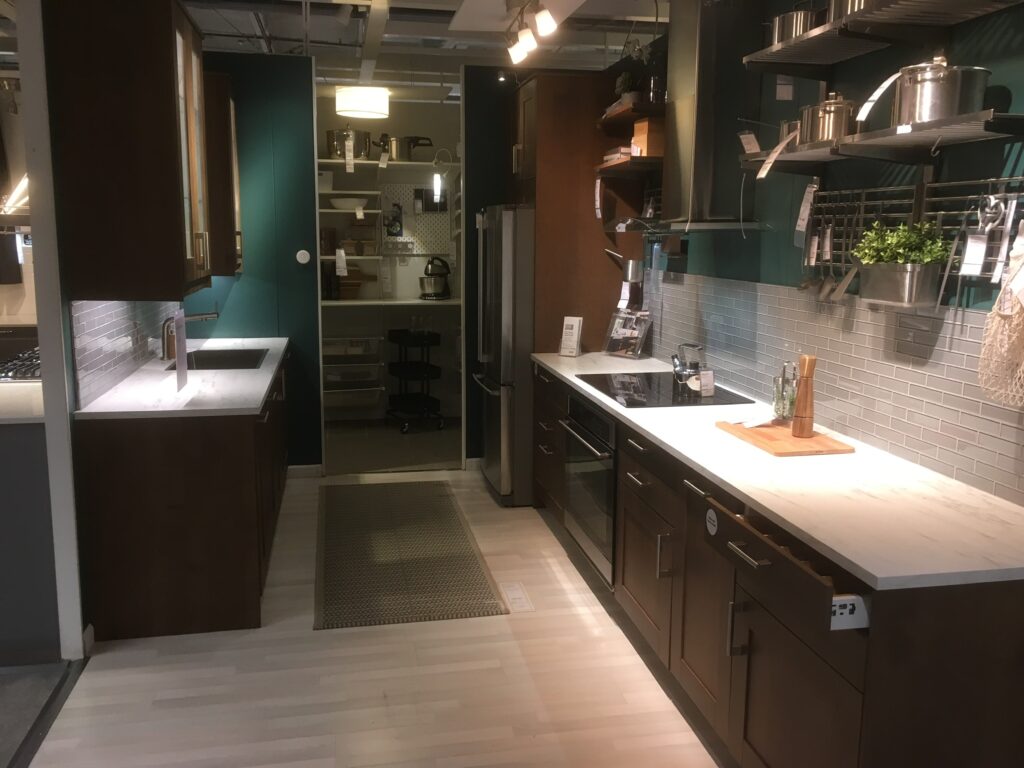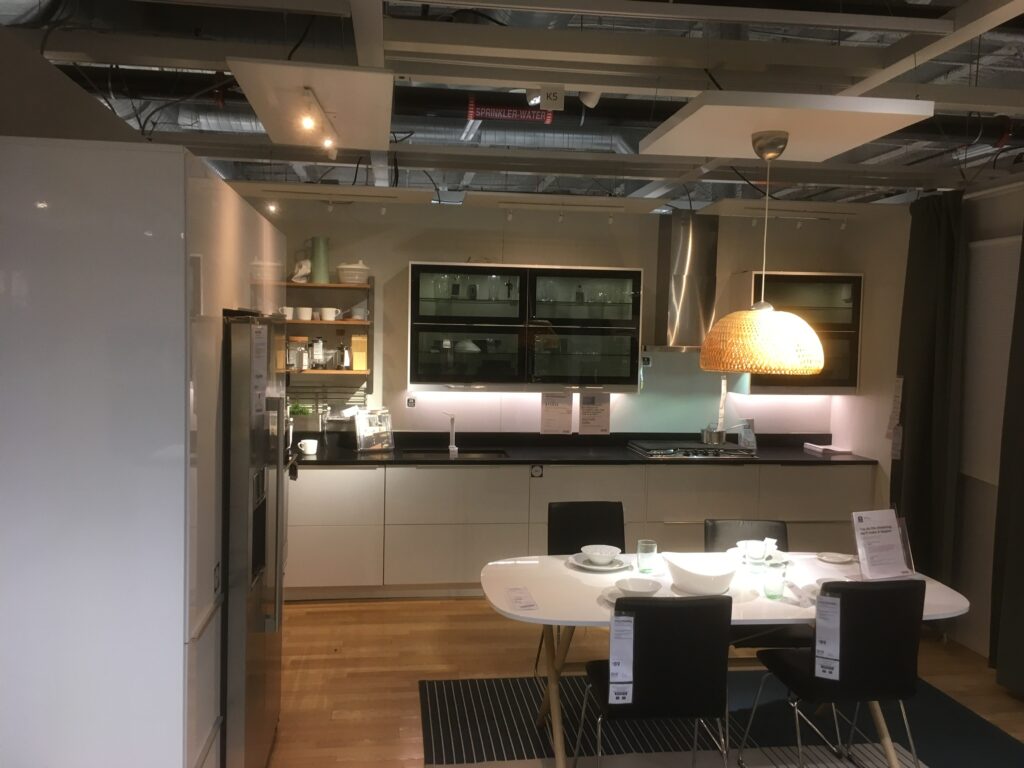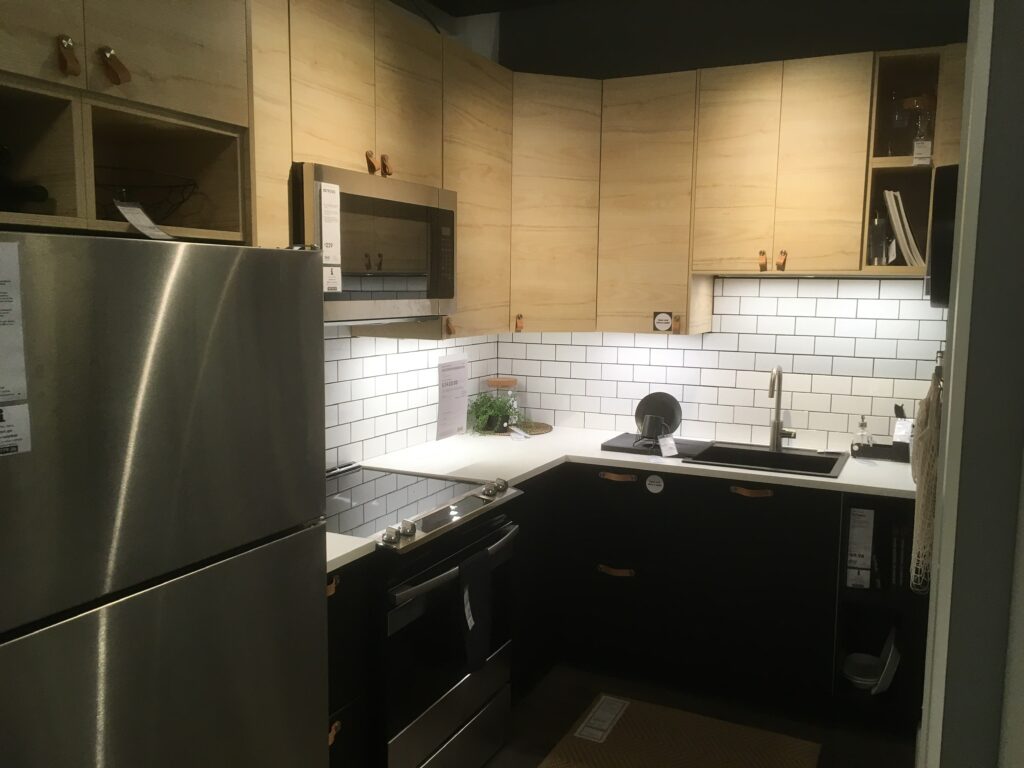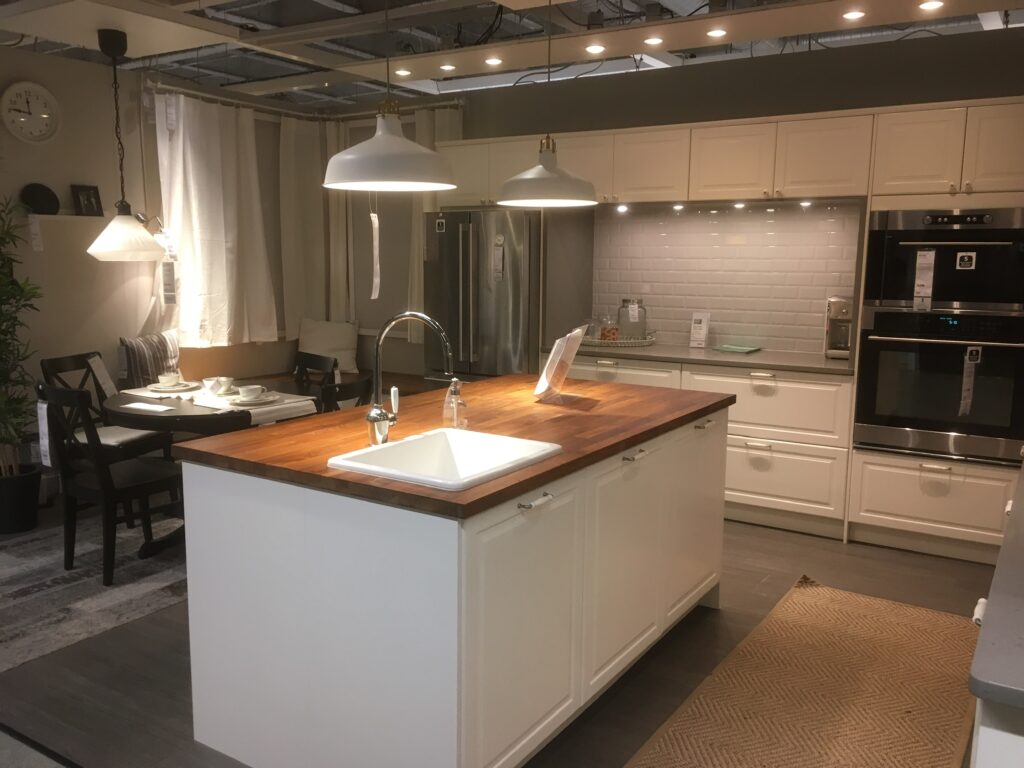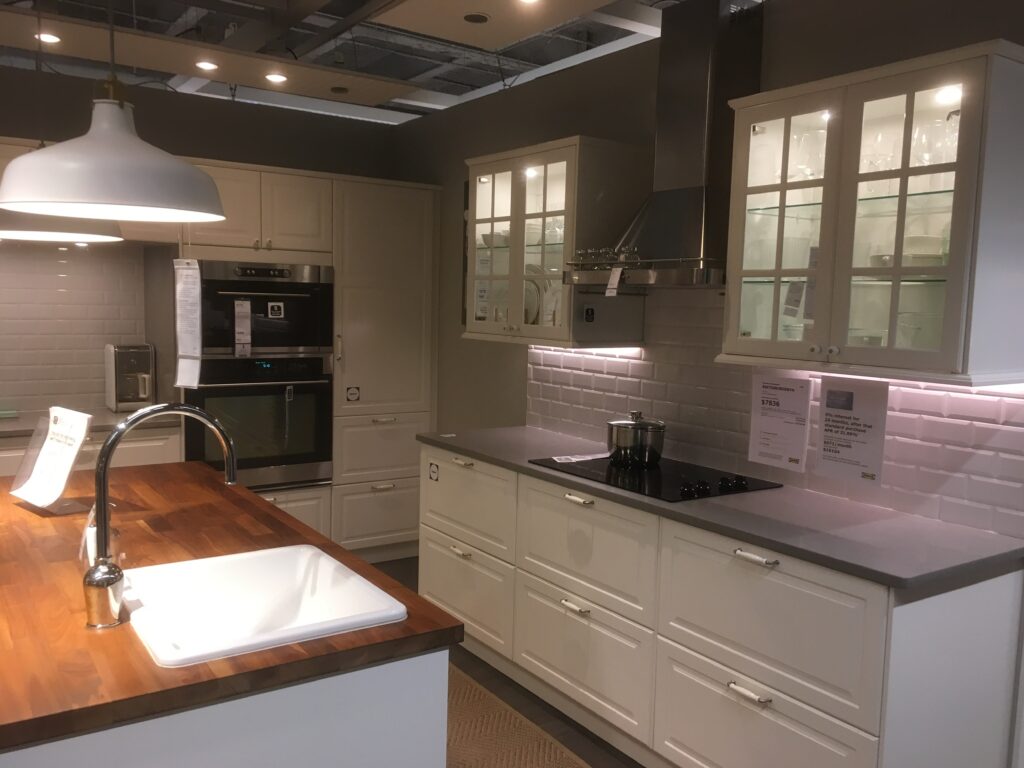 Before & After Kitchen Installations
Some spaces require looking at things in a different light, and imagining the space in a new way. This combined with serious thought on how you will be using the space results in the best overall makeover. Check out some of our Before & After pictures
Each kitchen remodel present challenges.
This home had a good sized space dedicated to the kitchen. Unfortunatley it was really spread out. Therefore, it did not have an efficient work triangle. There were some other challenges. Firstly the kitchen had five doors in it. Secondly there was a chimney along with a radiator taking up valuable space. Clearly this required a resolution. With this intention we deleted one of the doorways. In additon we relocated the oven to an exterior wall for direct venting.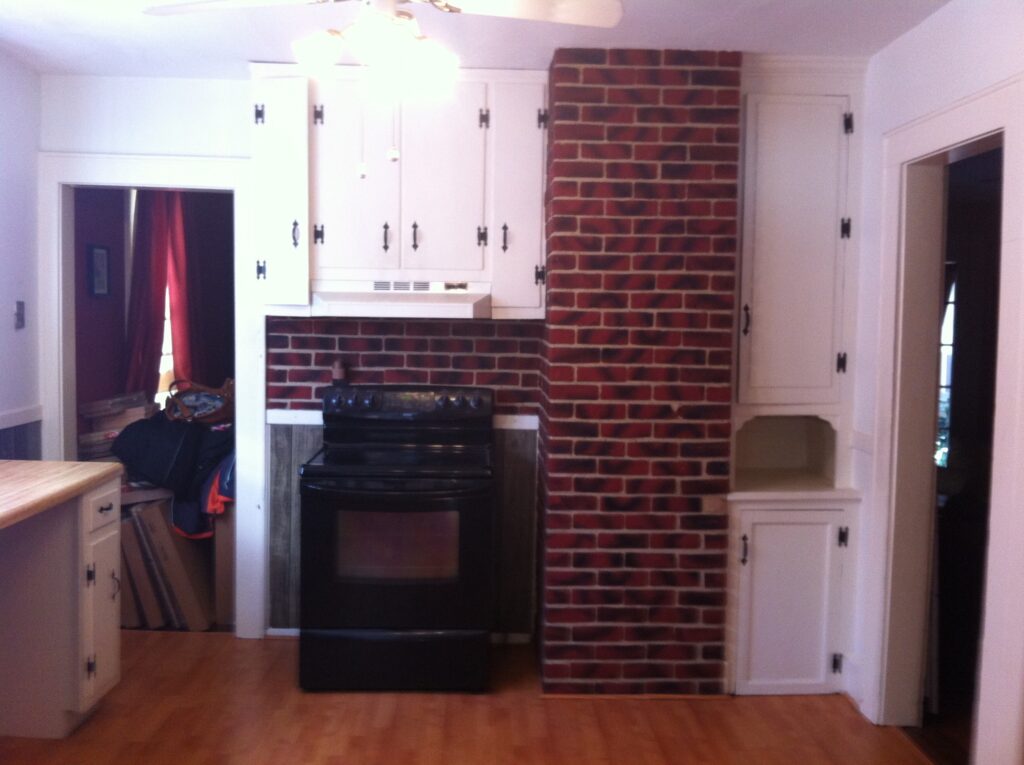 Another obstacle was lighting. The kitchen had limited exposure to natural light. In order to create more light we opened up the interior walls and installed double French doors to the outside. In addition to this the sink relocated to a window area. As well as adding a dishwasher. And last but not least 2 tall storage cabinets were installed to create additional storage. In addition the installation of the island resulted in greater work surface. As well as clear traffic flow and a suitable work triangle. Finally, task lighting added under the wall cabinets completed the efficient work space.
Because this kitchen was dated, the customer wanted to completely remodel it.
This involved tearing out everything to the studs, ripping out the ceiling and the floor. New sheetrock for the walls and ceiling and a new subfloor with ceramic tile. Because the customer wanted to incorporate a wall oven and microwave, the wall now extends into the adjacent room.
While keeping the sink in its existing place, due to restraints, the installation of an elevated glass cabinet with spot lighting created a bright atmosphere. We installed new subway tile with glass accent tiles to create a clean uncluttered look.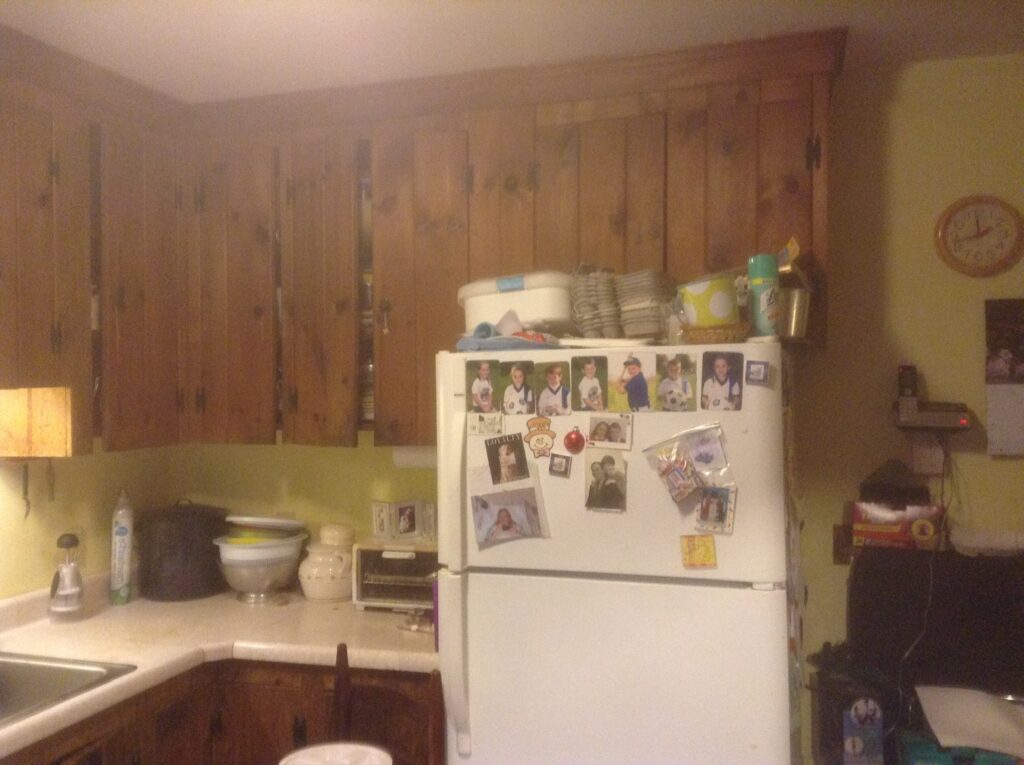 A kitchen has to be inviting and comfortable as well as functional.
The peninsula obstructed the flow of the kitchen. To remedy this the peninsula changed to an island. This opened up space to install a pantry wall oven and microwave while at the same time creating additional workspace and convenient storage. We installed an exhaust hood in place of the microwave increasing airflow as well as creating more workspace around the stove.
To create additional pantry storage space without interupting the flow the kitchen, we installed two tall pantries cabinets and sunk them in the wall so they appeared flush to the wall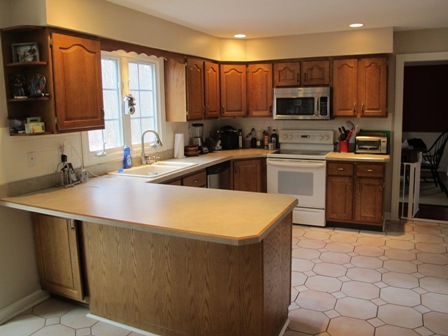 Let us help you get your IKEA Kitchen.
Still looking for inspiration for your kitchen?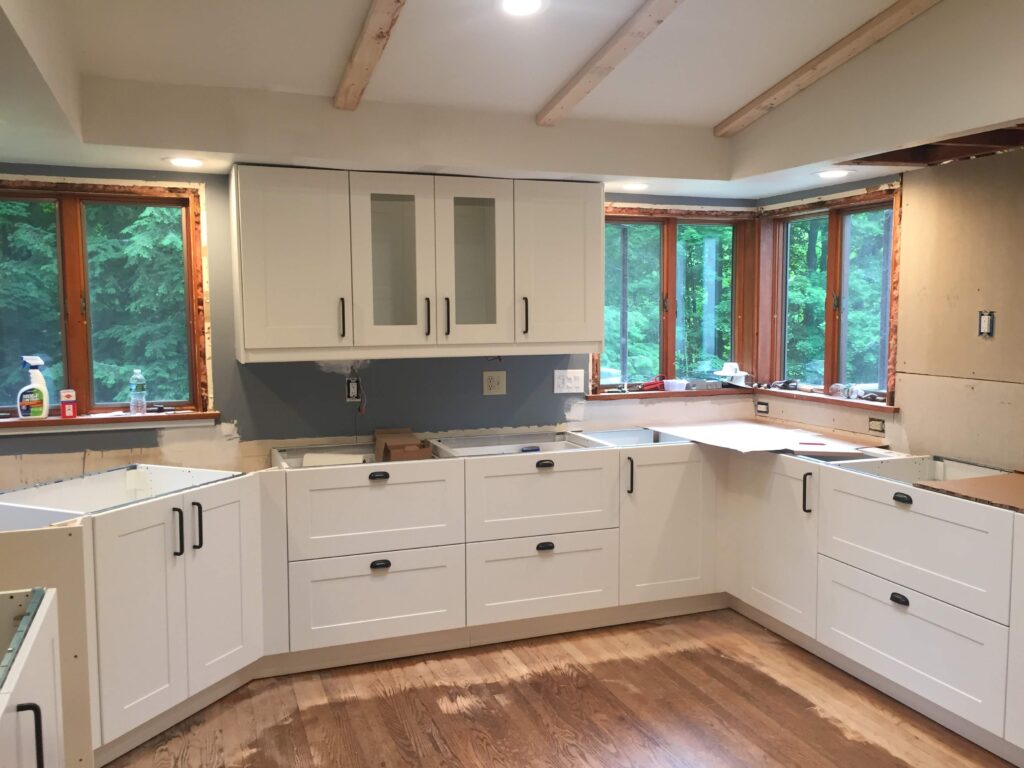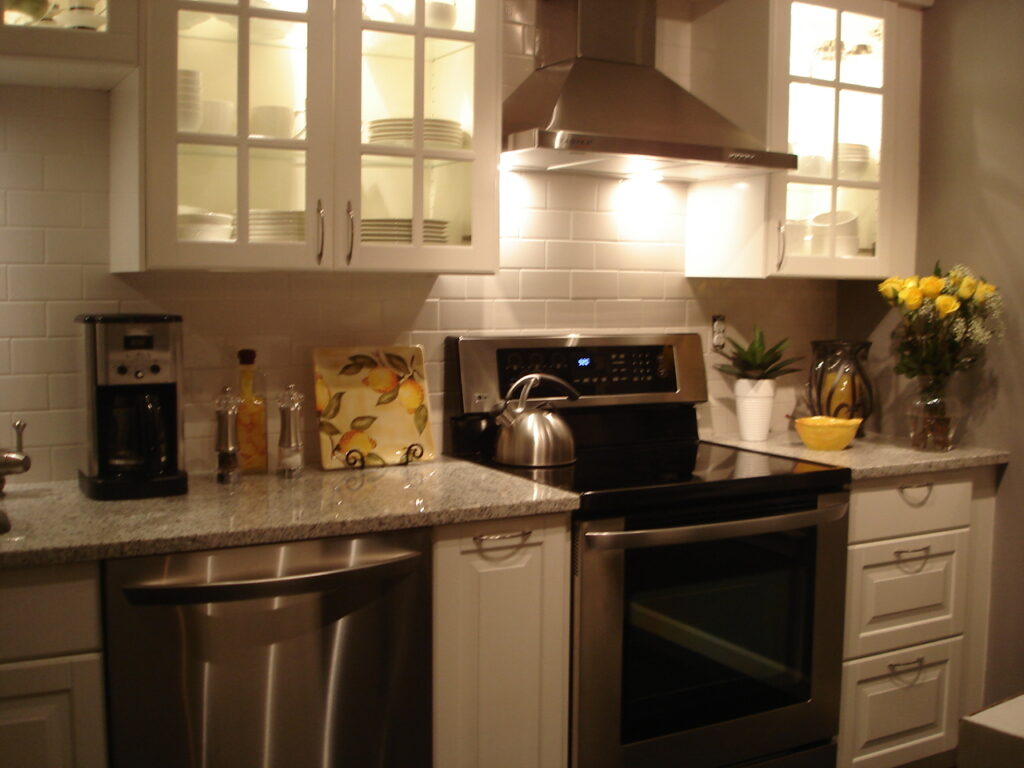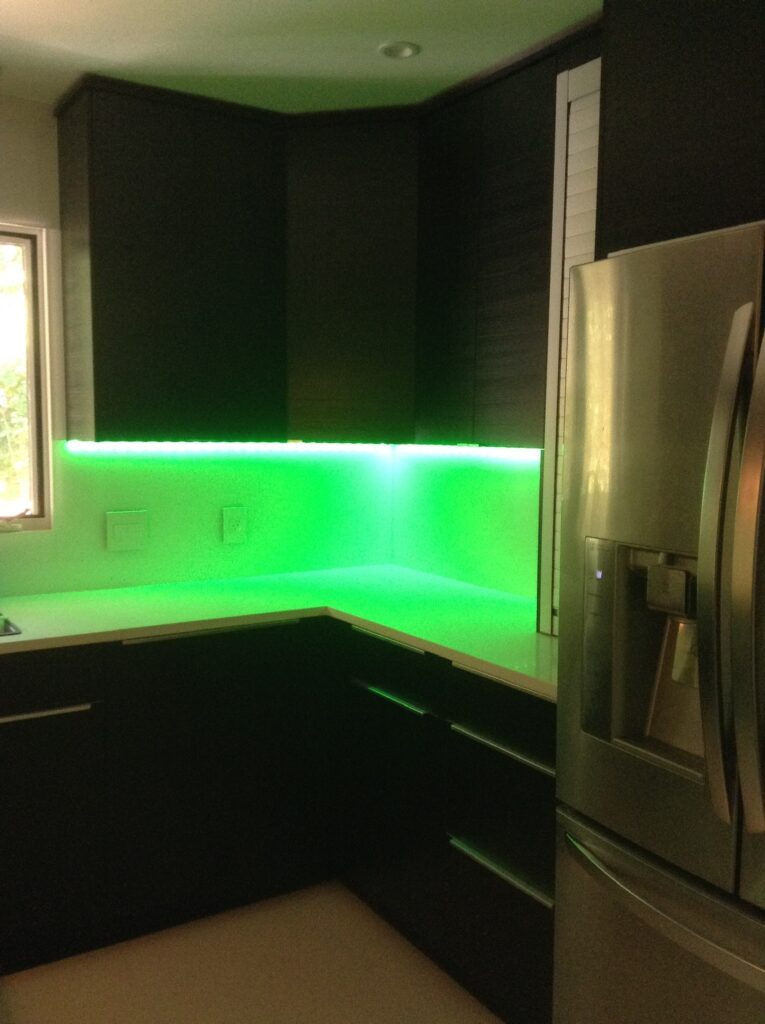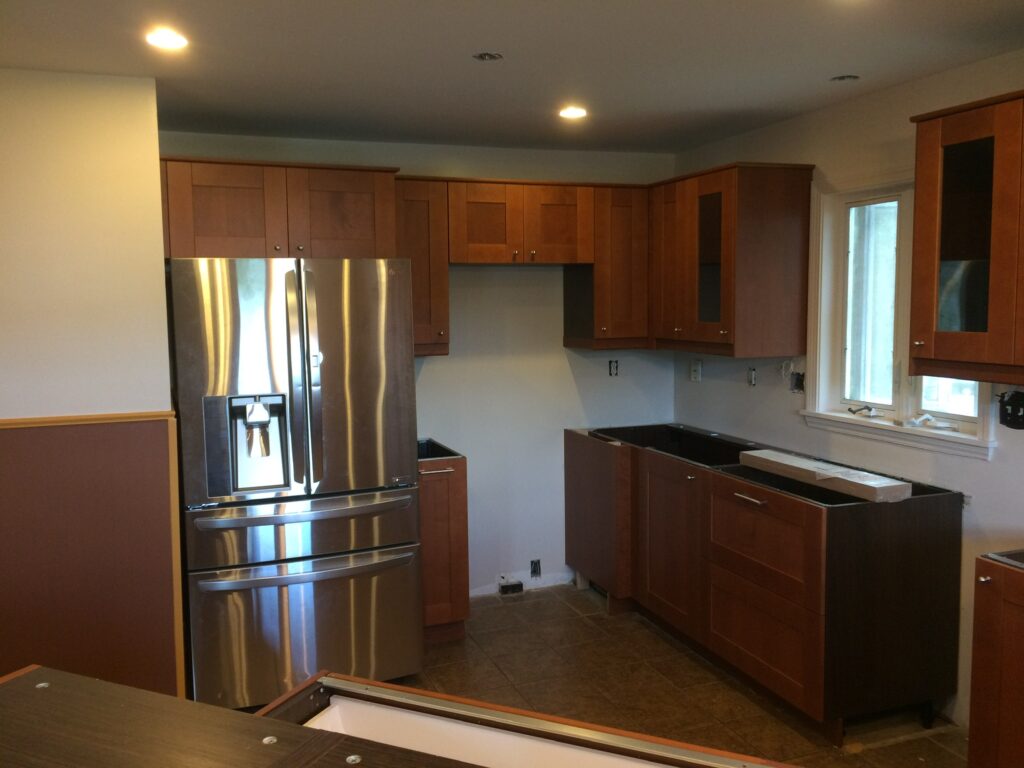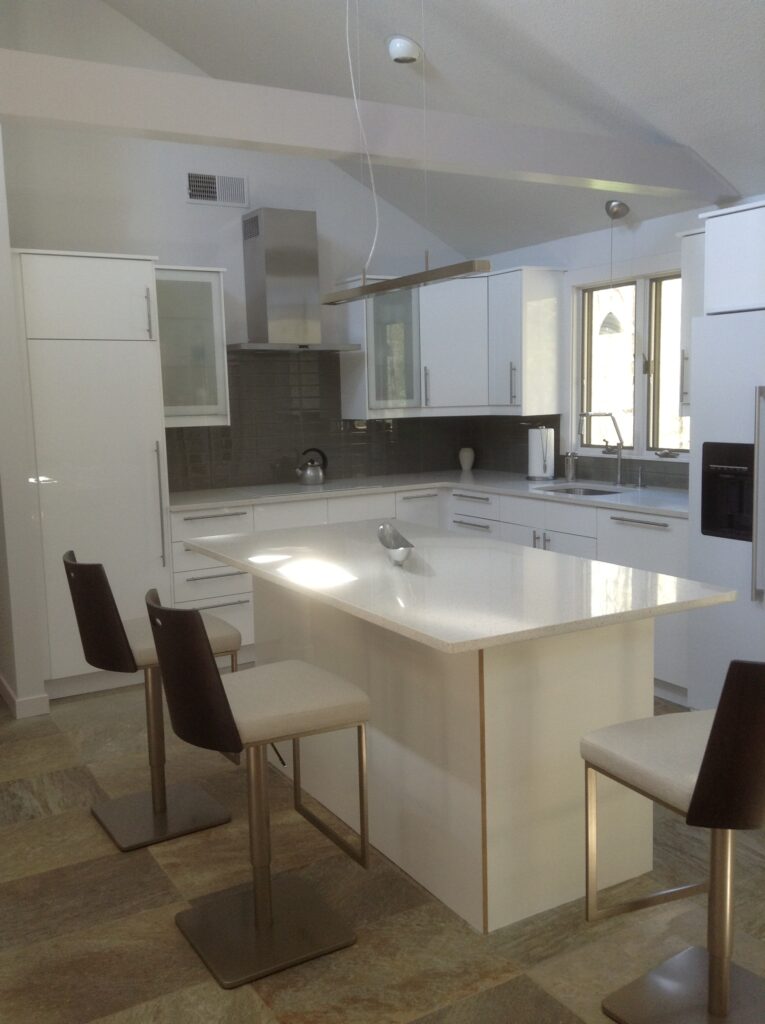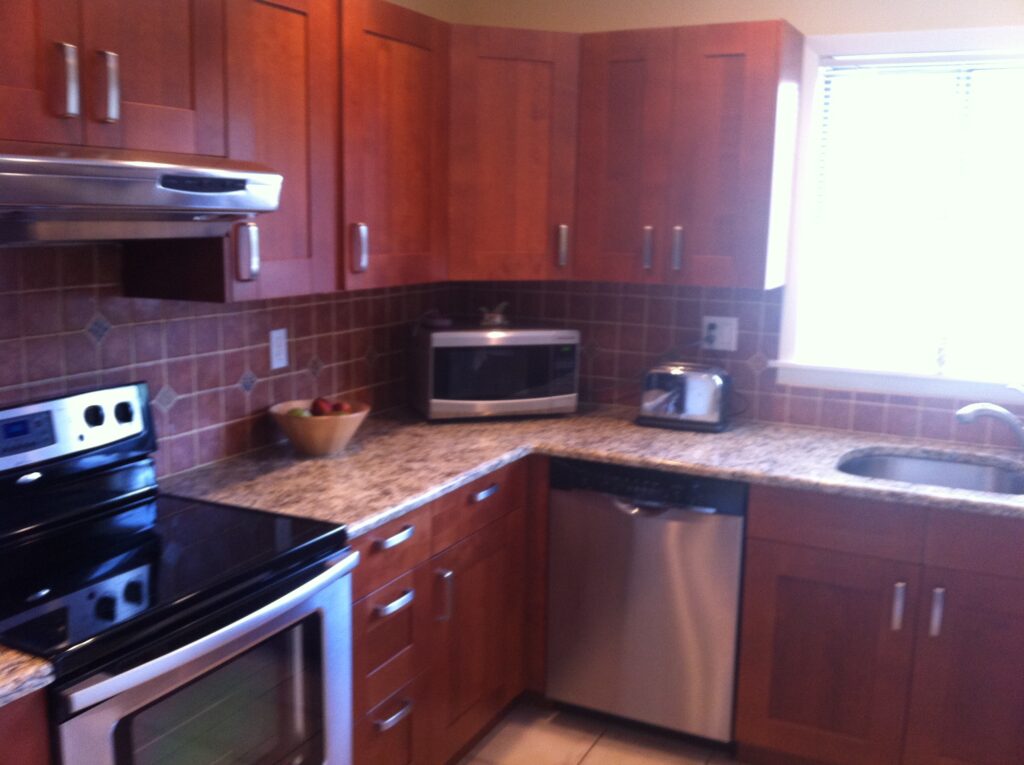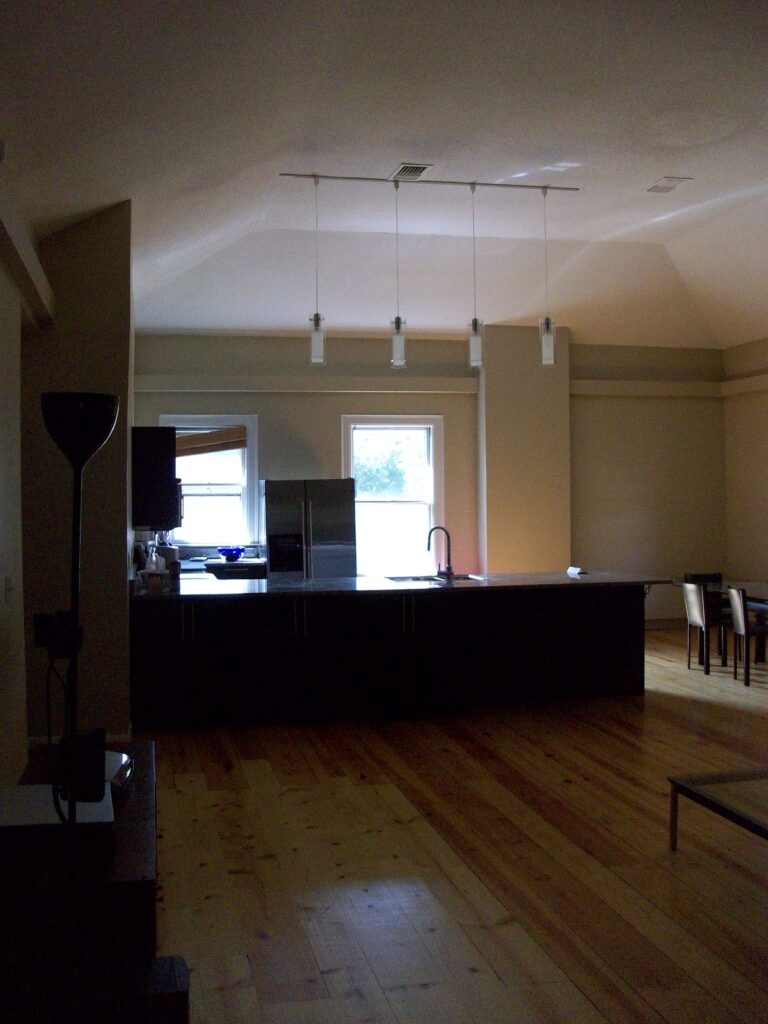 The Kitchen Installation Process